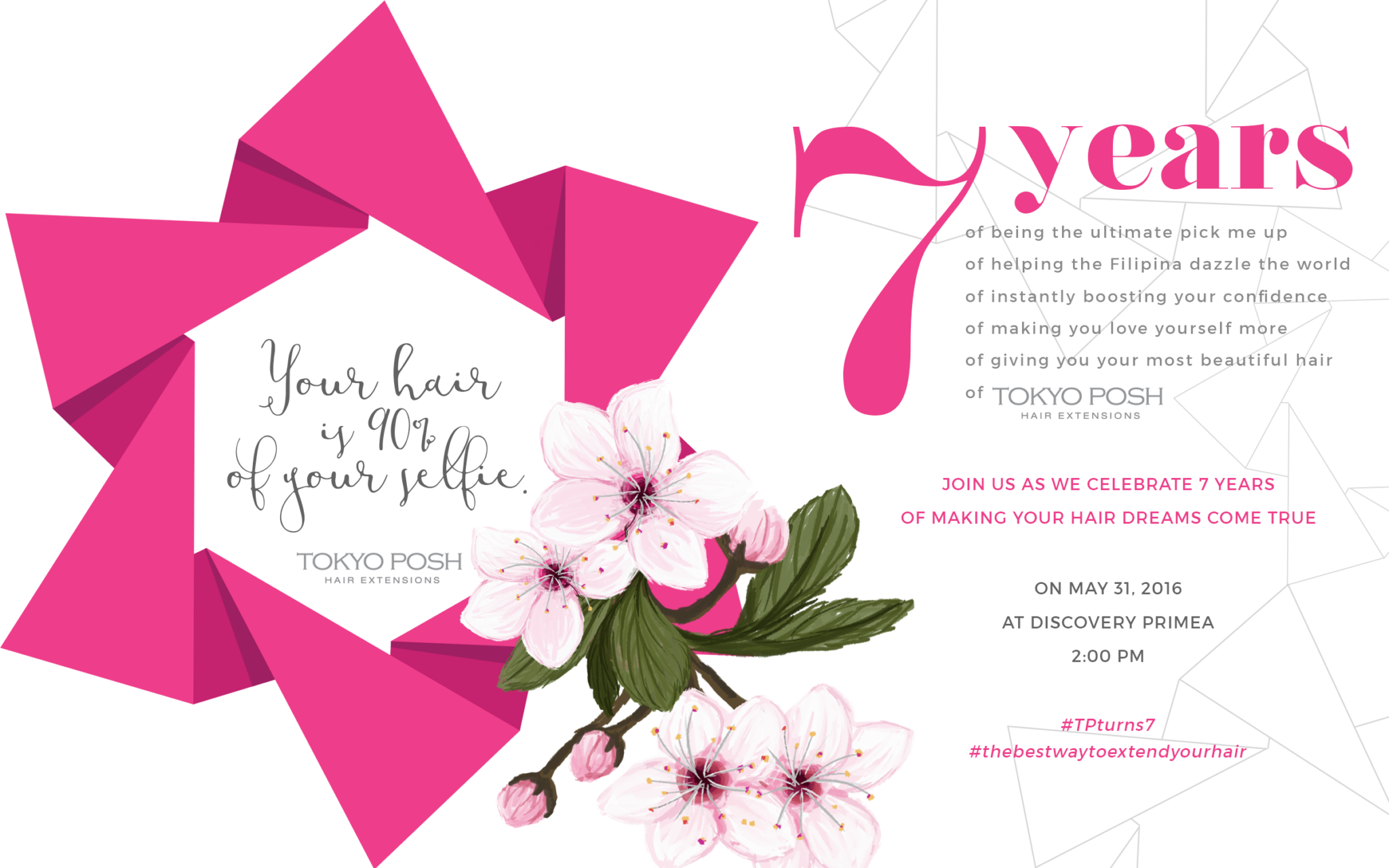 7 years of POSH Extensions
TOKYO POSH reinforced its positioning as the premiere hair extensions studio with a momentous seventh anniversary party last May 31 at Discovery Primea. The only source of the most premium hair extensions in the country, Denise celebrates the seventh year of TOKYO POSH with seven memorable milestones:
First PREMIUM HAIR EXTENSIONS STUDIO IN THE COUNTRY
"Hair extensions in Tokyo were sold in small kiosks in TakehsitaDori in Harajuku. I found it really hard to try on different types of extension with a very small space. The idea was to create a studio, where girls can be comfortable to try as many extensions as they want, where they will be served tea, where they can relax and bring their girlfriends and bond over kikay things like hair."
First TO BRING STYLED CLIP-ON EXTENSIONS
"Clip-on extensions are usually used by professionals, Tokyo Posh made it accessible to more women, who do not have any prior knowledge about hairstyling or use of hair tools. Tokyo Posh comes in over 50 different styles that include instant waves, bobs, bangs, ponies, and more. Think of it as a hair accessory, that you can change on a daily basis. Tokyo Posh makes it possible for women to get their dream celebrity hair in an instant, from our classic Gossip Girl character Blair Waldorf's perfect coils to Kim Kardashian's voluminous hair in less than a minute. Our 'Audrey' bun has been spotted countless of times being worn by the most beautiful local and internationally-crowned beauty queens. Our styled clip-on extensions are named after these celebrities who serve as our glamorous hair inspirations."
First TO BRING A COMPLETE LINE OF HAIR EXTENSION CARE PRODUCTS AND ACCESSORIES
"I first searched for the hair extensions suppliers of Japan, got in touch with them and made special arrangements with them that allowed me to design hair extension styles that would be perfect for Filipinas. From the inception of Tokyo Posh that initially carried synthetic hair extensions, we now offer a lot of options for our fashionable and discerning customers, with our German brand Hairtalk® line, today's most trusted type of hair extensions method globally. I am also proud to say that we have a comprehensive line of hair extension care products that includes shampoos, conditioners, treatments, balsam and the like."
First TO BRING 100% HUMAN HAIR, PAINLESS TAPE SEMI-PERMANENT EXTENSIONS
"There are other types of hair extensions in the market before we entered, but most of those are very damaging to your real hair. Hairtalk® delivers fast, easy, non-damaging results that blend seamlessly to your hair via non-damaging, hypoallergenic adhesive bands. Made from Germany, and patented globally, it is used by the Hollywood stars such as Paris Hilton. Jessy Mendiola and Bela Padilla are also fans of Hairtalk®. That is actually the reason why it wasn't so hard for celebrities to fall in love with Hairtalk® since they're exposed to and have tried all types of hair extensions before and they saw the difference with our internationally-known Hairtalk® line."
First TO BRING 100% HUMAN HAIR OMBRE AND BALAYAGE EXTENSIONS
"Our ombre collection for Hairtalk® is called ColorMelts™. Now you can have the option of having ombre today, natural tomorrow. Change your hair color whenever you like and only when you like, without damaging your precious locks."
First TO BRING HAIR BRAIDBANDS
"Braids, as much as they are pretty, they're not the easiest look to make. Tokyo posh can give this look in an instant through braidbands – from loose braids, to fishtail braids to double braids – it's your childhood dreams coming true. And you can get these looks in an instant, and on your own, too!
First TO BRING 100% HUMAN HAIR STRING EXTENSIONS (known as HAIRBAND™)
"Alex Gunter of Hairtalk®, who is here now, flies to Manila for major product launches and trainings to make sure TOKYO POSH passes the brand's global standards. Made from 100% Remy human hair, like all of the hair extensions under Hairtalk®, the Hairband™ is placed on a hand-sewn weft and stretches to fit every head shape and size, truly making it the must-have accessory for every woman. It instantly pumps up the volume and maximizes the length for a gorgeous head of extensions in less than 5 minutes, giving you added volume and effortless style anytime. Hairband™ is a patent-pending accessory that does not include any hooks that may cause discomfort during wear."
What inspires Tokyo Posh to expand its offerings is the overwhelming feedback that Denise receives from her clientele: "I have personally witnessed firsthand how celebrities, beauty queens, society mavens have fallen in love, if not addicted to TOKYO POSH. It truly is the most fulfilling feeling when clients come up to me or when they send me an e-mail, telling me how, through TOKYO POSH and having beautiful hair, they were able to get that all important uplifting feeling and extra confidence that has helped them ace a presentation, meet the man of their dreams, get through a breakup, or even land a movie role they've been aiming for."
Expect to see more of TOKYO POSH in the coming years: "We want to bring TOKYO POSH to more Filipinas. We feel like were just tapping the tip of the iceberg. There are more women out there, waiting for us to bring smiles to, by making their hair dreams come true."