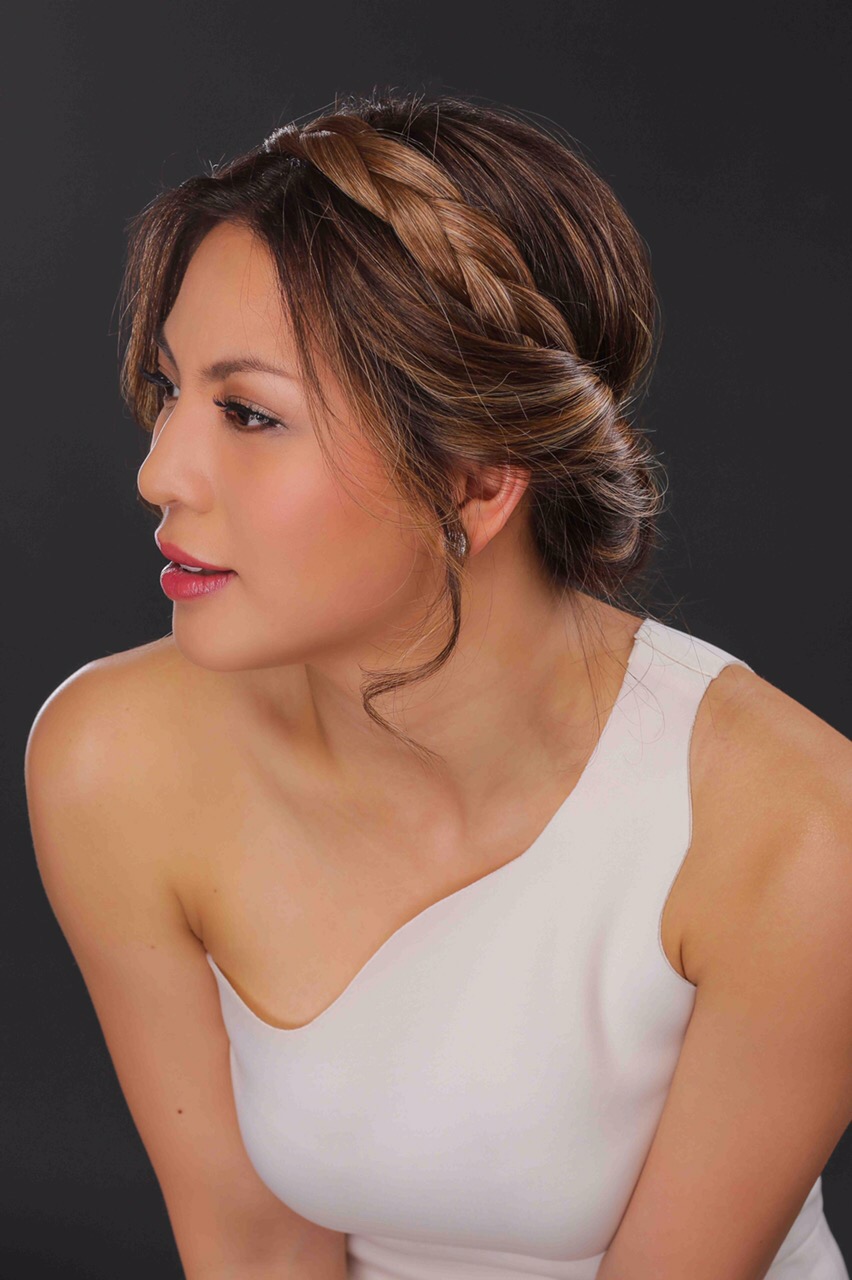 Say "I do" with the Pros!
June, as they say is for weddings so it was just perfect to come up with a wedding shoot with the best people in the wedding industry. Our idea is to bring all the people a bride will need to look perfect on her big day – from hair color to make-up and of course, her hair.
At Tokyo Posh, we get a lot of brides-to-be and they all ask me what style will be perfect to use on their big day – is it Hairtalk semi-permanent extensions or Tokyo Posh clip-on extensions? There is no single right answer to this question because it all depends on what look you're trying to achieve. Usually, I ask my brides to bring pegs of the looks they want to achieve on their wedding day and I then will work from there and then recommend what style will be best for them.
For this shoot, we were asked to create 3 bridal looks – The No Fuss Bride, The Sophisticated Bride and the Romantic Bride.
Luanne Dy was the romantic bride. Usually when you say romantic bride, you envision long, wavy, loose curls tied into a half ponytail right? But for Luanne, we wanted a different look, we wanted to create a romantic up-do that's classy-elegant but still very young. The main challenge with Luanne is that her hair is a chin-length bob, its a little too short to create an elaborate up-do so we used the Lana braid bands. It was so easy to do, we put it on her hair like a crown, tucked-in her short hair, leaving a few in-front for a softer look.
It wasn't hard to make Xandra Rocha's Sophisticated Bride look because Xandra is naturally classy, elegant and sophisticated. We wanted to veer away from curls and waves for Xandra, so we opted for a clean & classy, very long ponytail. This look is great option for women who are torn between putting their hair up or down during the wedding ceremony. With this look, you get the drama of having your hair down but the ease and comfort of having your hair-up as well. It's the perfect look to complement your elaborate lace details or that very low-back gown!
Real bride, Karen Pamintuan was a delight to work with. She definitely has that glow of a bride-to-be! The looks we created for her are her actual pegs for her wedding day. For her first look, she wanted her hair down with glamorous waves cascading down to her back. We didn't think twice on what to use for Karen, we knew right away that she will love the Blair hair extensions (it's what I used on my wedding day too!). Most women get scared to use synthetic hair extensions because they might look like a "wig" or may seem fake on photos but what most women do not know is that they're the best option for brides. Synthetic hair extensions like Blair is perfect because you're sure your curls/ waves will last you 'til the reception or end of your wedding party. Filipina hair is usually limp and as you know hair and make-up for brides start very early in the morning, so you're sure that by the time you get to the reception, you're curls are gone as well. And that's where your synthetic extensions play their magical role – 8,10,12 hours from your early morning hair and make-up and we promise you, your hair will still look perfectly coiled, exactly how it looked at 9:00 am.
For Karen's reception look, we wanted to go for a more No-Fuss Bride Look so we created a very fun, high ponytail. It's the perfect second look for Brides too because it takes less than 5 minutes to achieve this fun, fuss-free look. Usually HMU teams also charge more for a bride's second look so with this ponytail, you don't need a team to achieve it. All you have to do is to put your hair up (as you would when you tie your hair into a ponytail), then literally wrap the ponytail around your ponytail, and secure with a pin and that's it. You get your second look in an instant!
It's so much fun to be a bride now, there's just so much choices. Gone are the days when you schedule your wedding day in anticipation of your hair growth, whether you get married tomorrow or next year, with Tokyo Posh hair extensions, you're sure you can always have that look you've always dreamt of ever since you were a little girl. Most of us already waited so long for the right one to come along, but do you still have that extra patience to wait for your hair to grow (only to get your dream bridal look) before you say I do?
Say 'I do with the Pros!
Haircolor: Regine's Salon / Loreal Professionel
Makeup: Iya Yujuico
Photos: Pat Dy
Video: Silver Belen